Game of Thrones might be over, but Shangela, the Daenerys Targaryen of drag, is here to stay, slay and host gay weddings.
This Pride month, the RuPaul's Drag Race alumna and queen of "halleloos" has partnered with Skittles to host four LGBTQ2 weddings in Toronto. Before the June 22 event, the queen spoke with us about queer love, Lady Gaga and the thing that people don't know about her.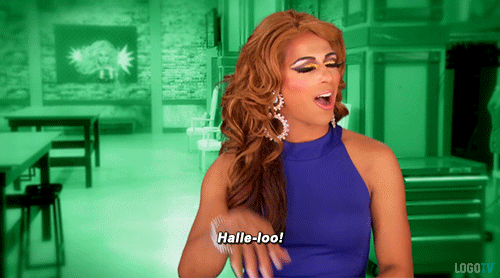 1. She can do it all
Here's the thing: Shangela will not actually officiate the weddings (a licenced officiant will do that) but she will serve as a host while the couples are married. "I'm super excited to be part of this event," she says. "You know, I'm all about love, happiness and joy for Pride. So hallelloo!"
2. She stans queer love 👬👭
"It's important for our community to honour the work that's been done [to reach this point] to move us forward, and to know that we have to stand together with each other," she says. "[During the event,] I am just really excited to be able to showcase this type of love, this queer love in our community."
3. She brings the rainbow
"I love to wear all types of rainbow — rainbow shoes, rainbow fishnet, rainbow outfit, rainbow, wig. That's really fun."
4. She serves face, talent and body to Pride 🏳️‍🌈
"For me, Pride comes from within. So the way that I celebrate Pride is just carrying my head up and expressing all parts of who I am and being proud of that," she says. "When I showcase that to the world, hopefully, it inspires other people to also be proud of who they are and be proud of the work that our community has done."
5. She's about the fam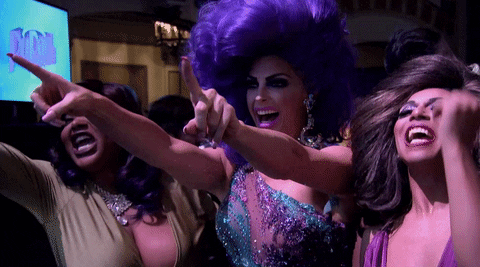 Shangela loves seeing a family celebrate Pride together. She says a lot of people don't know much about LGBTQ2 communities, so it's always exciting to her to see queer people's family members come out as allies and experience queer love, happiness and joy. What a queen. 👑
6. She's not only a star, but she's also other queens' big sis
"I've been around since the second season of RuPaul's Drag Race. So every time we have a new class of girls, I love to welcome them and give them some advice."
The advice?
"Okay, ladies, save your money, be kind and pay your taxes. Hallelloo!"
7. Representation: this queen wants more, more, more
Shangela starred alongside Lady Gaga in A Star is Born, performed in front of Beyoncé during this year's GLAAD awards, and continues to tour the world. Now other Drag Race alumni are making waves in the mainstream, including Willam Belli in Eastsiders and Bob the drag queen on Tales of the City. What does Shangela think about her and her sisters' increased visibility in the mainstream?
"I'm like, yeah! More, more, more! It's really important that our LGBTQ2+ stories are told authentically," she says. "I think that it's important to see drag be represented in television and the media in an authentic, inclusive and fun way."
8. She's on a first-name basis with Lady Gaga
Apparently, working with Lady Gaga is "everything that you would hope it would be."
"Not only is she an A-list talent who was very professional and all about really diving in certain characters, but she was also very kind and fun," Shangela says. " She created this really safe space for everyone on that set to just do their best work. That's what I really loved about her. And then, you know, we got to kiki between takes with her."
9. She's about to get in your head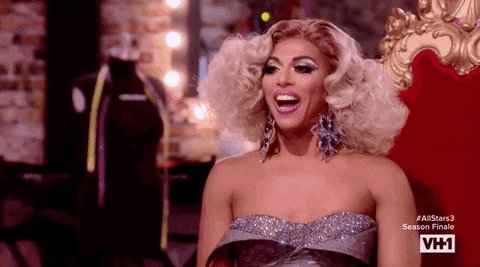 Shangela just launched her podcast, Shangela, in April and recently interviewed Andy Cohen and Special actor and creator Ryan O'Connell. She also teased an upcoming interview with another queer icon, Lena Waithe.
"My first focus right now is really building this podcast. It's a great way to connect with my fans around the world."
10. She can dominate a lip sync battle AND go camping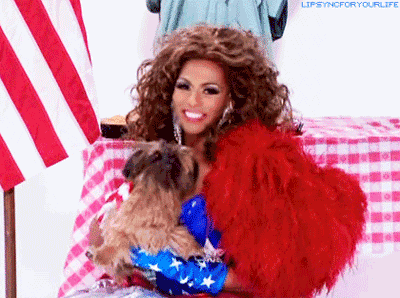 "I would say one thing that a lot of people don't know about me is that I'm very outdoorsy. I love nature. I love exploring. I just came back from a trip to Mexico, where some friends and I just did some kind of off-roading," she says. "I love to be out there in nature."
11. She adores Drag Race Season 11 queen Brooke Lynn Hytes and, yes, Canada, too 🇨🇦 
"I love Brooke Lynn. I knew her prior to her experience on Drag Race. She's always been such a kind, professional, entertaining diva. So I'm excited to see her on this most recent season."
As for the north?
"I'm so thrilled to be coming back to Canada. Canada has one of the best RuPaul's Drag Race fan bases out there," she says. " And that's what I'm coming for, honey. Get ready!"