Aside from dangerous levels of eggnog consumption and endless Mariah Carey, one of my favourite holiday indulgences is day dreaming. 'Tis the season for gifts and resolutions, after all. There are a few, very specific scenarios I like to mull over — JoJo will see me on the subway, lean in and whisper, "I like you. Choreograph my new world tour and let's be friends." Or I'll run away to a French villa with my new husband Chris Pratt (Anna left him to join a nunnery), and we'll spend our days playing Mortal Kombat and eating pizza.
Or maybe I'll quit smoking. Whatever — they're my fantasies, they can be as dull as I want.
But lately, I've been contemplating Toronto's queer landscape. 2015 has had its ups and downs, and while it's fun to reminisce, it's way more fun to wildly guess at what 2016 will bring the LGBT community in the city.
1. Justin Trudeau will dazzle Pride Toronto
Oh hello, leader of our country.
(Trudaddytrash/Tumblr)
Justin Trudeau will ride into Toronto on a white horse on June 30, 2016. He'll wearing pasties, leather chaps and a smile. Up on a podium, Trudeau will announce that gays all across Canada can now donate blood without having to be abstinent for a year.
Far-fetched? Yes. But as soon as Pride Toronto announced Trudeau would be the first sitting prime minister to join a Pride festival, I've been endlessly wondering if his appearance will tie in with a major LGBT announcement. The MSM blood ban might be a long ways away, but even something like setting aside more money to support homeless LGBT youth would make 2016's Pride a major celebration.
2. Operation Soap becomes a city-wide holiday
John Tory is great at press conferences. Kinda.
(Via Global News)
Mayor John Tory will call a surprise press conference on Feb 5, 2016. He'll be wearing a towel, flip flops and a smile. He'll announce that, in remembrance of the bathhouse raids in 1981, Feb 5 will become a civic holiday for the entire city. Bathhouses celebrate the decision by offering free admission.
Okay — it's an unlikely dream. But as we approach the 35th anniversary of Operation Soap, when Toronto police raided four bathhouses across the city, it would be good to see Tory, at the very least, acknowledge the day. And after years of dealing with Rob Ford (and, lest we forget, a decade under Harper), we could use a mayor who doesn't ignore our community.
3. The Village revitalizes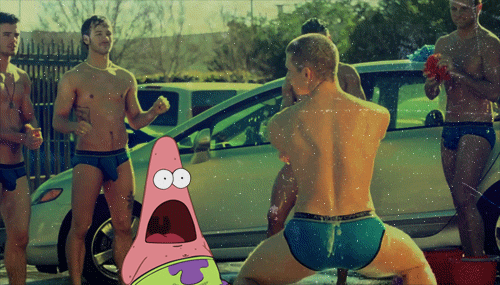 Every good announcement needs go-go boys.
(Via Tumblr/Giphy)
Councillor Kristyn Wong-Tam will stand on the rainbow crosswalk at Church and Alexander Streets. She'll be wearing a top hat, a mesh bodysuit and a smile. Surrounded by a gaggle of drag queens and go-go boys, she'll announce that the Village will see three new bars opening in 2016 — including the return of Slacks, for the gals — and that The 519 will receive a major expansion.
Maybe . . . not. But as we get ready to lose yet another queer space, a resurgence in Toronto's queer nightlife would be a good reversal in trends. The 519, however, is definitely poised to have a landmark year. The community centre's LGBT sports centre seems to be well underway, and as Canada welcomes more and more Syrian refugees, its Settling In program will be sure to help a record number of LGBT people who need it.
—
Whether my wishes are even half plausible, we're sure to see plenty of action in 2016. On behalf of the Daily Xtra team, I hope you all have a safe and delightful holiday stretch. We'll see you in the new year!
(Andrew Jacome is Daily Xtra's associate editor in Toronto and Ottawa)