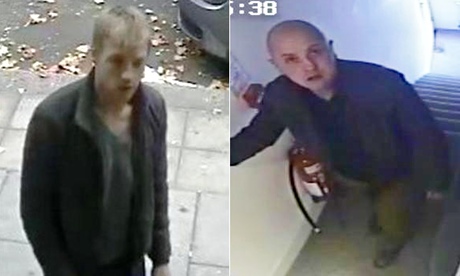 Robbers use Grindr to target victim (UK)
Two men in London contacted a third man using Grindr, then attacked him with a cattle prod when he opened the door and stole cash and a laptop computer. London police say they are afraid that criminals may be targeting LGBT people using the app and have asked other victims to come forward.
Sally Kohn: Wedding chapels should not discriminate (Idaho)
The Hitching Post wedding chapel in Coeur d'Alene, Washington, does not want to perform marriages for gay people. And religious institutions usually don't have to. But chapels like the Hitching Post are not really religious institutions, writes Sally Kohn at the Daily Beast; they are for-profit businesses and should act like it. "These entrepreneurs have chosen to incorporate as private businesses, with all the legal rights and privileges that entails," she argues. "Don't wanna marry everyone who are entitled to marry legally under the law? Then don't run a wedding business."
Immigration officials asked gay asylum seekers inappropriate sexual questions (UK)
The UK's chief inspector of borders and immigration says that the Home Office, the department responsible for immigration, frequently asks gay asylum seekers inappropriate sexual questions, such as whether they have had "fewer than 100 sexual partners" or why one asylum seeker would have sex every day when that was "not even normal in heterosexual relationships." Chief Inspector John Vine says that such questions made up more than 10 percent of those asked of gay asylum seekers. "Questions were either not relevant or appeared to be formulated to make claimants feel uncomfortable, for example by implying their sexual orientation was a deviance from a heterosexual norm," he said.
Silas House: Small towns are the real front in the battle for equality (Kentucky)
While urban America surges forward on gay rights, small towns are often holdouts of discrimination, writes Silas House in The New York Times. House writes about his home of Berea, Kentucky, where city council recently rejected an ordinance to ban discrimination against gay and trans people. "Small American towns like Berea are not teeming with the mean, ignorant people that many urban dwellers have come to expect," he writes. "Instead, these are places where, I've learned, the loudest and most powerful are in constant fear of change, of difference, of losing votes, while the many rural Americans with more inclusive values tend to be quieted as the perceived minority."
Read more at The New York Times.
Reagan aide: anti-gay America should secede (USA)
Conservative writer and former Reagan aide Douglas MacKinnon has written a new book proposing a country called "Reagan," with plenty of traditional values and much less of the gay. MacKinnon suggests Florida, Georgia and North Carolina as the ideal republic of no-homo. But not Texas, he says: too many Mexicans.
Human Rights Watch: Drop charges against Italian gay activists (Italy)
Perugia's public prosecutor should drop charges against two gay activists who were charged with disturbing the peace for kissing during a protest, says Human Rights Watch. The activists were counter-protesting an anti-gay-marriage group this spring. Police reported that the two men shared "a long and passionate kiss on the mouth . . . in front of many families with children and adolescents many of whom are minors, leaving passersby disgusted by such a demonstration." One Human Rights Watch researcher said that "the charges would be laughable if they didn't reflect exactly the anti-gay sentiment the activists are fighting against."
Read more at Human Rights Watch.
US and Russia struggle over gay rights abroad (Kyrgyzstan)
The United States and Russia are fighting for influence over the gay-rights policy of Central Asian nation Kyrgyzstan, The Diplomat reports. Earlier in October, Kyrgyzstan passed a law outlawing the promotion of "a positive attitude toward non-traditional sexual relations," likely modelled after similar Russian legislation. The Diplomat suggests that the law signals a Russian move to use anti-gay sentiment as leverage against US diplomacy.
Photo: London Metro Police