Killing Eve, the BBC America spy drama that pits MI6 agent Eve Polastri (Sandra Oh) against beguiling assassin Villanelle (Jodie Comer), was a genuine phenomenon from the jump. Writing about Killing Eve for Variety, critic Caroline Framke called it "both wonderfully funny and so pointed that it could draw blood." And Oh won the Golden Globe for best actress in a drama series earlier this year. To say the new season, which premiered Sunday, was highly anticipated would somehow be underselling it.
Season 1 was heralded as the rare queer show that doesn't just bait with straight women's flirtations, but actually delivers on representation, including making Villanelle bisexual. Keeping that up was a tall order for the creative team especially since its creator Phoebe Waller-Bridge has taken a step back to work on other projects. So, how queer is Killing Eve Season 2?
What is Killing Eve?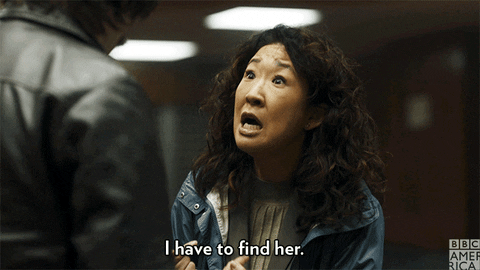 Based on author Luke Jennings' series Codename Villanelle, the show follows Eve Polastri and her MI6 associates on a special mission: to find and capture the stylish, sociopathic Russian agent Villanelle. She has a flair for the dramatic, executing her targets in increasingly baroque fashion. Eve grows obsessed with Villanelle, and soon enough, the feeling is mutual.
I've never seen Season 1! How can I catch up?
The entire first season is available on Hulu. Also, I'd recommend not reading any further in this piece, as there will be spoilers!
How does Season 2 shake up the status quo?
Villanelle is wounded and on the run, after Eve nearly fatally stabbed her in the finale of Season One. Her story for the first two episodes is one of survival and escaping increasingly difficult situations, like making her way out of a hospital before the police can find her in the premiere Meanwhile, Eve is emotionally paralyzed after her encounter with the assassin, unable to process what she's done and panicking her way through her travel back home to London. She only finally shakes out of her fugue state when boss Carolyn Martens (Fiona Shaw) brings her a big update in the Villanelle case.
How has Sandra Oh's performance evolved since Season 1?
Oh delves deeper into Eve's psyche. The first episode, in particular, is a hallmark moment for Oh's performance, as Eve moves through the world in a state of shock. The most memorable scene in the premiere is of a shaken Eve, approached at a bar by a woman who says she knows who she is. In a fit of paranoia, Eve suspects the worst — only to realize the woman thinks she's a drug addict, as she recognizes addiction when she sees it. (Little does the woman know, Eve is addicted — but not to drugs.) Eve falls into hysterical, off-putting laughter at the suggestion; the scene should be on Oh's Emmy reel this year.
What about Jodie Comer's?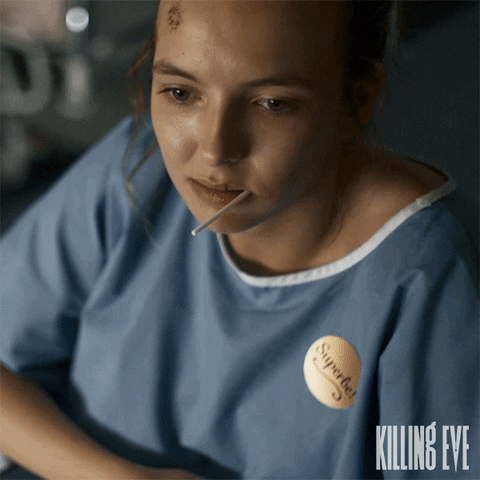 As other critics have previously written, Comer is excellent as Villanelle, childlike in her petulance while remaining frighteningly competent. That the praise for Comer has been muted in comparison to Oh is likely because of the expansive career Oh has had before this series. Hers is a coronation awards run, whereas Comer, best known for non-crossover British TV prior to Killing Eve, is still just getting started in her career. But make no mistake: from the two episodes I've seen, Comer is the MVP of Season 2. It's refreshing to see her on the run and out of power, in stark contrast to her assured confidence in Season 1.
What could make Killing Eve queerer?
Well, it's pretty damn queer already: Villanelle is bisexual, and there is a palpable attraction between her and Eve. But I do think we're inevitably heading for a real sexual connection between these women.
So: how queer is Killing Eve Season 2?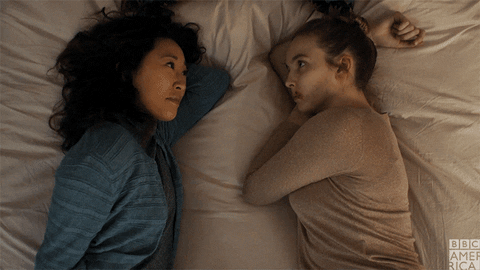 It's playful and fun when in the first episode, Villanelle playfully refers to Eve as her "girlfriend" to a fellow patient at the hospital. These women share a deeper connection, with both admitting their mutual obsession in the Season 1 finale. It isn't exactly romantic (though Villanelle did once send Eve a suitcase of designer clothes), and it's not physically sexual (though they have curled up in bed together). But their chemistry is off the charts.
Killing Eve is a dance between two women obsessed with each other, and yet destined to ruin each other. The stabbing from the Season One finale is a metaphor for that: they can get close, but it'll kill at least one of them eventually.